enhancing animal welfare under foot

reduces cattle stress and anxiety

unique mat design reduces slipping and is easier to wash

non slip surface promotes cattle confidence and contentment

provides protection under foot

calmer cows are easier to handle and produce more milk
Transport
Provide a 'Sure Foot' environment for cattle during transportation – SureFoot® rubber matting provides more grip which means less injury and calmer animals.
CatTle relax and arrive in very good condition even after long distances.
Installed by an increasing number of Livestock carriers especially elite bloodstock for it's proven performance.
Product Applications for Transport
Flooring
Loading Ramps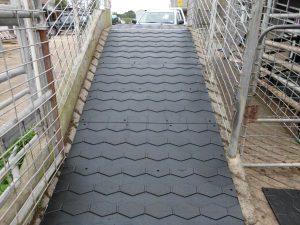 "Industry professionals believe that SureFoot® Mat has the potential to improve the welfare of animals in a range of situations."
SUREFOOT® MAT
The SureFoot® mat is gaining wide acceptance in the Livestock transport Industry especially with those operators moving stud cattle and more valuable animals.
Cattle settle better and arrive fresher at journeys end when transported on SureFoot® mats, even those cattle moved long distances interstate.
SureGrip® Mat
Ideal for areas such as loading ramps where more grip is needed.
SureDock®
Protect your assets with the SureDock® docking cushions.
Available in three sizes to suit all applications from trailers to trucks and saleyards.