enhancing animal welfare under foot

reduces cattle stress and anxiety

unique mat design reduces slipping and is easier to wash

non slip surface promotes cattle confidence and contentment

provides protection under foot

calmer cows are easier to handle and produce more milk
Saleyards & Feedlots
Matting of choice by livestock exchanges wanting to upgrade their yards for OH&S and animal welfare reasons.
Dirt and wood chip surfaces are messy and expensive to maintain.
Using SureFoot® Mat is cost effective and does not harbour dangerous bacteria that can accumulate in disposable materials such as wood chips and dirt.
Product Applications for Saleyards & Feedlots
Yards & Laneways
Scales
Loading Ramps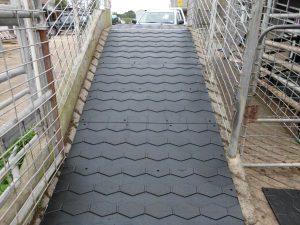 SUREFOOT® MAT
Is the choice of matting for upgrading concrete surfaces.  Buyers are reluctant to source cattle from concrete yards where the cattle quickly lose condition from the hard unforgiving surface.
The SureFoot® mat prevents lameness, slipping and promotes calmer cattle.
SureGrip® Mat
Our new SureGrip® mat is a recent addition as an alternative to the SureFoot® mat which is ideal for use on slopping surfaces.
Agri-Ground Cell®
The surface reinforcement structure that typically is used in dirt yards around troughs and feeders and in laneways where ruts and holes occur.
SureDock®
Protect your assets with the SureDock® docking cushions.
Available in three sizes to suit all applications from trailers to trucks and saleyards.