enhancing animal welfare under foot

reduces cattle stress and anxiety

unique mat design reduces slipping and is easier to wash

non slip surface promotes cattle confidence and contentment

provides protection under foot

calmer cows are easier to handle and produce more milk
Abattoirs
MLA testing shows less 'dark cutting' occurs from cattle processed on SureFoot® mats.
Relaxed and non-stressed cattle standing on a rubber surface is proven to increase profits.
OH&S is greatly improved with less slippery surfaces.
Product Applications for Abattoirs
Holding Pens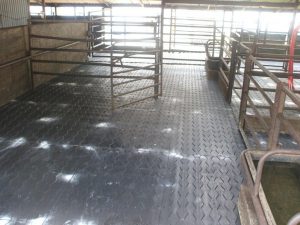 Laneways
Loading Ramps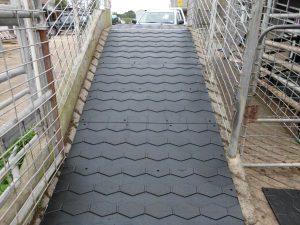 SureFoot® Mat
SureFoot® Mat is recognised by industry professionals for its ability to reduce animal stress.
Tests from MLA show less dark cutting occurring in cattle processed on SureFoot® mats animal welfare, OH&S, and return for investment is paramount.
SureGrip®
Ideal for use in underpasses, loading ramps or any slopping area that needs that extra grip.
SureDock®
Protect your assets with the SureDock® docking cushions.
Available in three sizes to suit all applications from trailers to trucks and saleyards.